Cloud hosting is based on virtual servers which pull their computing resource from an underlying networks of physical web servers that might be located in various data centers. This provides maximum flexibility and scalability, but implies various security issues, lack of control of sustainability matters regarding the hardware and data center management - and can become costly in the long run depending on amounts of data stored and access needs.
Smaller businesses and startups usually opt for the cloud because of the scalable cost, low overhead, and the fact that IT competence is not needed inhouse. Larger operations often go to a colocation provider to house their servers because it saves money in the long run, and it offers the benefit and flexibility that comes with having total control over your servers.
The Advantages of Colocation
There are three important advantages to colocation: hardware choice, control, and privacy. Colocation users are free to buy the hardware that best suits their project - and this can be of critical importance in terms of competitive advantage in certain industries, like some machine learning algorithms benefitting from parallel processing on multiple GPUs.
Colocation users also have complete control over how hardware and software are configured. Financial trading companies often prefer colocation because it allows them to build and configure extremely low-latency networks which isn't possible in the cloud.
Finally, colocation is the ultimate in server and data privacy. Only the owner runs software and stores data on colocated servers.
Do you want to read more about the pro's and con's of the cloud? Check out our blog post on the matter!
What to Look for in a Colocation Data Center
We have written an entire e-guide on the top nine considerations when choosing a colocation provider. Below is our popular check list.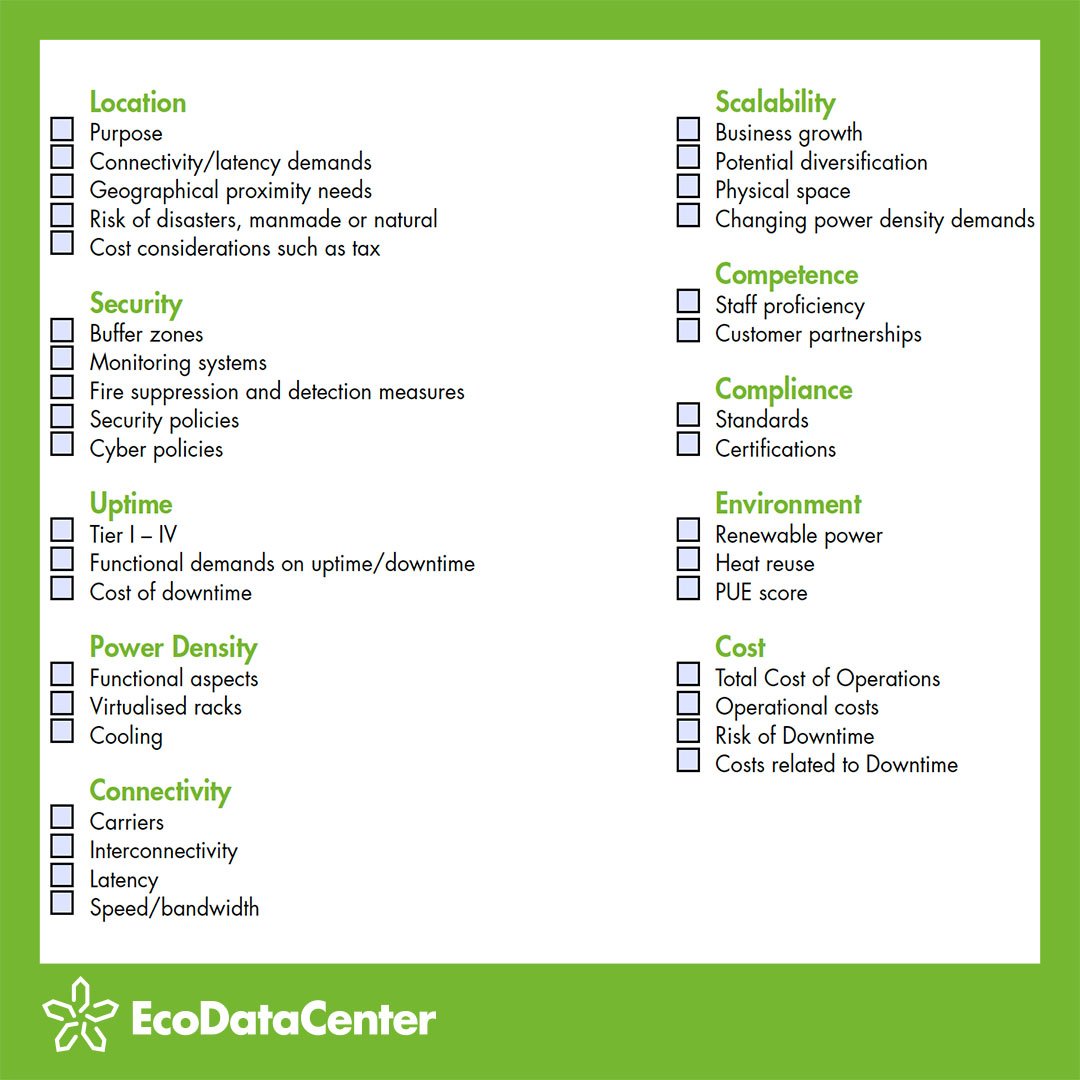 If you want to know more, we recommend you to download the e-guide:
Technical support, redundancy and price are sometimes mentioned as the three key parameters to investigate.
Modern Colocation Data Center Design
We can see a few trends in modern data center design, much of it driven from the need for large, hyper-scale, data centers. New markets will require new approaches to datacenter design, creating facilities that can operate with very different climate and energy profiles. This will require major innovation in the way data centers are designed, built and powered.
Data centers need to become sustainable. Efficiency in power usage (1), using only renewable power (2) and excess heat reuse (3) are building blocks for data center sustainability.
They also need to be prepared for higher density - with more kW per rack. Not all customers need high densities, but those who do might have a hard time finding options as this might require other cooling solutions.
Higher capacity: As data centers try to go for their maximum in order to run efficiently- they need all capacities to align, such as power with cooling etc.
Lower Total Cost of Ownership (TCO) – Power is a major cost factor in the TCO equation of a data center, and advancements in power technology are continuing to emerge. There's a tendency toward larger block sizes, the UPS's are getting a little bigger, and the generators are getting a little bigger.
Secure – Data centers need to be designed for a multi-layered physical solution with a focus on the perimeter, while also accommodating for customer security systems and personnel.
We have of course designed our data centers accordingly. Read more about the difference between EcoDataCenter and other data centers here.
Modern Data Center Terms
We have not compiled yet another Data Center glossary - the web is full of them. But instead we do explain the terms that are central to explaining what we do and how we do it.
What is Colocation?
Colocation is a service where you as customer place your servers at a third party provider of data centers instead of running your own data center. You still own the servers. The operator, like EcoDataCenter, assumes responsibility for the server environment, i.e. safety, connection, operations and power and cooling. Colocation doesn't demand capital investments or the lengthy lead times involved in building one's own data center. Colocation can be bought where and when you need it, as you need it, in safe areas and with power and cooling in a highly accessible and redundant environment.
What is Tier IV?
Uptime Institute (the IT industry's most renowned global standard for designing, building and operating a data center) rank data center's operational safety from Tier I to Tier IV. Tier I can be compared to a server room with a power connection, whilst Tier IV has fully redundant (double, triple or quadruple) power and cooling systems with 99,99% uptime. Uptime being the same as the time all the servers are up and running. The opposite – downtime – stands for planned or unplanned outages.
HPC is a high-performance supercomputer cluster – it uses parallel processes to perform large amounts of advance, complex calculations in an efficient, reliable and fast way. A HPC facility has a totally different density than an ordinary data center and is measured in the number of kilowatts per rack. This density places high demands on the cooling and heating solutions.
What is ERE (Energy Reuse Effectiveness)?
ERE describes the energy recovery in a data center. In most data centers, the surplus heat is not reused, but being released straight into the atmosphere. The microclimate around the data center is affected by the so-called "heat island" that results from the emission of heat. This can lead to changing life conditions for both flora and fauna – among other things. If, instead, the surplus heat is recycled and used to heat buildings or drive an industrial process, the data center has a high ERE.
PUE is the ratio between the total amount of energy a data center uses and the amount of energy that the computer equipment uses. Simply put, PUE describes how much energy that is used for cooling, light and other overhead energy. A low PUE number means high energy efficiency.